Your rain gutters and downspouts are responsible for diverting water away from your home. Thus, you need to make sure that they are in great condition and free from clogs. Otherwise, rainwater and other debris may wreak havoc on your property and cause moisture damage.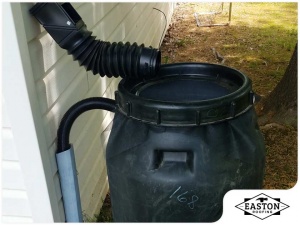 Easton Roofing, a professional residential and commercial roofing company, explains where the rainwater from your gutters and downspouts should go and what happens if they are not working properly. 
Where Should Rainwater Go?
If your gutters and downspouts are in great condition, rainwater moves down the roof without interruption until it reaches a spot in your garden or a drain. Here are some possible water delivery ideas you should consider for your gutter system:
Drainage Pit – Also known as a dry or drainage well, this method is a great way to eliminate rainwater without interfering with your home's curb appeal. It involves excavating a part of the ground, which is then partially filled with polished stone and installed with a drain pipe in the lowest area to catch water from the soil and drain it into the pit. Before building this type of drainage, be sure to check with your local government about residential stormwater management standards.

Rain barrel – This is one of the easiest ways to store rainwater. For this method, add a diverter to your downspout to deliver the water into the barrel, which can be installed underground or above ground. This type of container is available in plastic or wood and can store 30 to 100 gallons. To keep it free from algae, place it in a well-protected area. 
What Happens if Your Gutters Are Not Properly Working?
One common indication there is a problem in your gutter system is when the water runoff starts backing up and flows out the sides of the gutters. If downspouts are clogged with organic debris such as leaves and twigs, they are not directing the rainwater away from your home. Over time, this may lead to leaks and other moisture issues. 
Moreover, it's also important to have professionals install your gutter system correctly. If your downspouts are too short, the rainwater may likely end up too close to your home, increasing the risk of foundation damage. In addition to that, if you don't have enough downspouts installed in your system, the volume of the rainwater runoff might become too much for the gutters to handle, causing overflow. 
For a top-quality gutter system, turn to Easton Roofing. With our roofing expertise, rest assured your rain gutters and downspouts are in great shape. Call us today at (913) 257-5426 or fill out our contact form to set an appointment. We serve homeowners in and around Kansas City, MO.