Small Details, Big Results
If you're having trouble maintaining a comfortable indoor temperature or if it's become increasingly expensive to do so, you may be in need of new attic insulation. Easton Roofing can help you replace your old insulation, reducing your energy bills and increasing your comfort.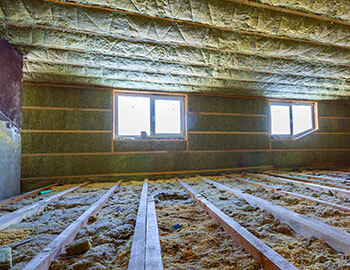 Your attic insulation plays a vital role in protecting the exterior of your home too. The right level of attic insulation can prevent roofing issues, such as ice dams, by regulating the temperature of your roof deck.
The Professional Difference
While removing or replacing attic insulation may seem pretty straightforward, trusting a professional roofing company with the job is always a good idea. Our team at Easton Roofing is experienced in installing attic insulation and we know the important factors to consider, including:
The right amount. It isn't always apparent how much insulation your attic needs. Perhaps your attic is already insulated, but if you have too little insulation, your house will be warmer in summer and colder in winter. It's also possible to spend too much on insulation you don't need.
The right kind. There are many different kinds of insulation material that have different installation methods and energy efficiency ratings. Using the right product for your home's needs can have a big impact on your heating and cooling costs, as well as the price of the insulation itself.
Correct installation. Your attic is likely full of sharp corners, tough angles and even hazardous surfaces. Our team will ensure that your insulation is installed correctly and evenly, and that joists, electrical wires and the attic's structure is not damaged in the process.
Contact Us Today to Learn More About Attic Insulation
Easton Roofing is the roofing company you can trust for accurate and affordable attic insulation removal and replacement. Call us today at (913) 257-5426 in Kansas City or (785) 766-1259 in Lawrence. You can also request a free consultation online.