Choosing the right roof style will make your commercial property stand out. Besides looks, it can impact the functionality and energy efficiency of your building. These are just among the many reasons to make roof-related decisions carefully.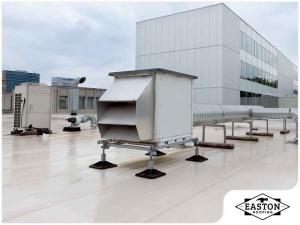 Here are some of the most popular commercial roofing styles. 
Popular Roof Styles for Commercial Buildings
Gable Roofs 
Known for its two sides that slope down from a ridge in the middle, gable is the most common roof style. It provides excellent drainage and ventilation while offering significant room for expansion. 
Hip Roofs 
A hip roof features four sides that slope downward toward the edges, creating a more uniform look. They are great for large commercial buildings because they offer more protection from high winds, heavy snow, and other harsh outdoor conditions. 
Flat Roofs  
Flat roofs provide an even plane without ridges or slopes. They are ideal for large industrial structures that require maximum usable space. 
Top Commercial Roofing Options
Metal is one of the most popular roofing materials. Commercial roofing contractors recommend it to property owners it due to its durability, ease of maintenance and long lifespan. It can last for at least 50 years with proper installation and care. 
You'll find asphalt shingles in many residential and commercial structures in the U.S. It's cost-effective and comes in different color and design variations. Slate or clay tile roofing is also suitable for commercial buildings due to their longevity. However, they tend to cost more than other materials because of their weight and more complex installation. 
Tips for Avoiding Roof Damage
Regular maintenance is essential to prolonging the life of your roof. Schedule routine inspections at least once a year and after a severe storm hits your area. Be mindful of signs of damage or wear and tear, such as broken or missing shingles, cracked seals and granule loss. 
Have a professional check your roof immediately if you believe it has damage. Don't delay repairs if necessary to keep problems from getting worse. Moreover, it's also vital to keep your gutters clean to ensure good drainage and prevent leaks and water damage. 
If you're looking up "roofer near me reviews" online because you need a reputable contractor, look no further, because Easton Roofing is more than ready to assist with your project. We provide superior roofing services, including installation, repairs and replacement. Call us at (913) 257-5426 or complete our contact form to request a free consultation. We serve clients in communities throughout Kansas City.