As a GAF-certified roofer, Easton Roofing continues to offer top-notch roofing products from GAF, one of the leading roofing manufacturers in North America. The brand's ongoing commitment to quality helped it earn the prestigious Good Housekeeping Seal. Find out why here.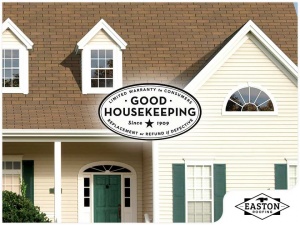 Proven Performance
The Good Housekeeping Institute, the organization behind the Good Housekeeping Seal, performs thorough evaluations on different home improvement products. Nearly 50 GAF roofing products are recognized by the institute because of their durability and weather performance via the brand's Advanced Protection® technology. Some of the products even passed the toughest fire and wind resistance tests in the industry.
Utmost Versatility
You can be sure there's a GAF shingle product with the Good Housekeeping Seal that meets your needs regardless of your home's architectural style and local climate. With this, you can have peace of mind knowing the shingles you'll be installing are expected to perform for a long time.
Beautiful Design
The GAF roofing shingles that earned the Good Housekeeping Seal are designed to fit any home aesthetic, be it traditional or contemporary. Some even mimic the look of tile, slate and wood shakes. The great thing about these shingles is that they come at a fraction of the cost. This allows you to achieve a desired look for your home without sacrificing weather performance.
Enhanced Energy Savings
Certain GAF roofing products also contribute to enhancing your home's energy efficiency. For instance, the Timberline® Cool Series® shingles have a high solar reflectance, which means heat buildup inside the attic can be prevented while also lowering your cooling bills by up to 15%.
Easton Roofing works closely with you, assesses your roofing needs and provides a customized solution to address all your concerns. To learn more about our roofing products from GAF and other renowned industry brands, give us a call today at (913) 257-5426 or fill out our contact form to request a free consultation. We proudly serve homeowners in Kansas City.