By Lyle Campbell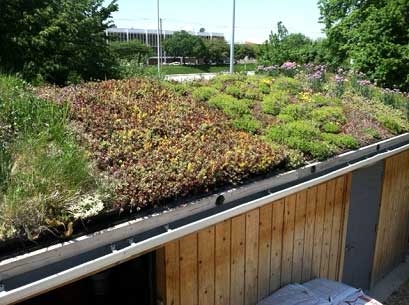 Whether it's a fancy high-rise, an everyday municipal building, or your two-car garage, green roofs have them covered. They've become so popular, cities and towns have established green roof building specifications and regulations. Some cities require green roofs on certain kinds of new construction.
Why Go Green?
Reasons for the growth of green roofs are mostly driven by environmental concerns, such as fewer resources and climate change. Green roofs have a number of benefits:
They absorb rainfall, which reduces or slows down stormwater runoff. This keeps the rainfall out of storm sewers, rivers, and streams, while watering the plants. Some roof gardens are engineered to capture or reserve rainfall to replenish the plants. In a recent ⦁ National Park Service study, standard roofs retained 24% of rainfall, and green roofs retained 80%.
Green roofs reduce the heat island effect in urban areas. Concrete, brick, and asphalt absorb and trap the heat. Green spaces offset that by cooling the ambient air.
They reduce heating and cooling costs. Plants cool the air around air intake systems, which means it takes less energy for the system to cool the air. The⦁ National Research Council of Canada estimates a 75% reduction in air conditioning use with a green roof.
Green roofs reduce air pollution. Plants clean the air of many pollutants.
They create pleasant green spaces in unlikely places, such as the roofs of hotels, high-rise apartments or office buildings, and government buildings.
Three Types of Green Roofs
Intensive
These aren't always obvious, such as the park-like settings that cover many underground parking garages. These green roofs include trees, shrubs, lawns, and perennials. You might also see them dotted with pathways and benches. These green roofs have a soil base of 12 to 36 inches or more.
Semi-intensive
These include perennials, herbs, grasses, and small shrubs. These are planted in soil 4 to 12 inches deep.
Extensive
These are the most common for residential use. Succulents, grasses, and other small plants can be planted in as little as 1 to 2 inches of soil.
Drawbacks to Green Roofs
Cost
The biggest deterrence is the cost, when compared to a traditional roof. The U.S. General Services Administration, which manages 2 million square feet of green roofs, places the cost of a common commercial black asphalt or tar roof at 21 to 31 cents per-square-foot. The agency puts the cost of green roofs at $16 to $20 or more per-square-foot. The greater the size, the lower the cost.
Weight
The weight of a green roof, even the extensive type, greatly increases the load on a structure. Plants, soil, and soil saturated with rain- or snowfall weigh a lot more than the layer of shingles on your roof. An extensive green roof, the most popular for the family garage, saturated with rainfall and mature plants, will weigh about 13 pounds per square foot. An intensive system can weigh in at 35 pounds or more. Reinforcements are almost always required to support the extra weight.
Maintenance
Green roofs require more maintenance than a shingled roof. You can reduce the amount of maintenance by planting the two types of grass that grow best in Kansas City. LawnStarter recommends tall fescue and Zoysiagrass for KC.
What to Plant in a Green Roof
The type of green roof you have will determine which plants to use. There are companies that sell modular trays with the plants that will do well on your roof. Your best bet is to hire a local roofer to install it for you.
Kansas State University has several types of green roofs on campus. Researchers study the various aspects of roofs to learn which are the most environmentally sound and under what conditions. The university also publishes several downloadable guides to green roofs.
At Easton Roofing, we are your leading provider of roof repair, installation, and maintenance services. Give us a call at (913) 735-8534, or fill out our online contact form to request a free consultation and no-obligation quote today. We serve homeowners in Kansas City and all surrounding areas.
Lyle Campbell is a home stager and freelance writer. He enjoys gardening and home projects and admits to having way too many power tools. Still, he can't pass a hardware store without looking for the latest gadgets.