Your roof is responsible for protecting your home from harsh weather. While some roofing structures are able to withstand more, there are certain weather conditions that can wreak havoc on your roof when left unchecked. Our roofing experts at Easton Roofing discuss more below.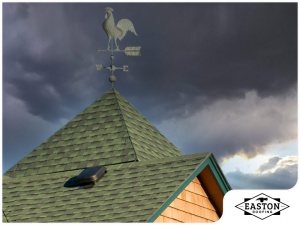 Rain – Since rainfall is a common occurrence, homeowners often downplay its possible effects on roofing systems. For example, frequent rain can cause pooling on low-sloped roofs, while heavy rain can infiltrate already compromised areas on roofs. Both of these instances can lead to persistent leaks and water damage in the attic.

Wind – When strong and high winds cause your shingles to lift and blow off, your roof becomes exposed to more damaging elements, such as moisture. The good thing is that by performing a roof inspection after a particularly severe windstorm, you can address small issues and prevent further problems from springing up.

Hail – Sharp-hitting hailstones can cause ceramic-coated granules on asphalt shingles to wash off and clog the gutters. Once an area on the roof is exposed, it is only a matter of time before leaks materialize.

Heat – Constant exposure to the sun's ultraviolet rays can make the roof brittle and cause the shingles to crack. Wide variations in temperature also force roofing materials to shrink and expand, which leads to damage over time. For flat roofs, applying reflective paint helps keep the heat off. Adding insulation and keeping the attic well-ventilated can also head off the harmful effects of too much heat from the sun.
Let Easton Roofing handle all your roofing needs. Whether you need to fix a simple leak or completely tear-off your shingle roof, our team will deliver the great results you expect. To schedule an inspection with us, give us a call at (913) 257-5426 or fill out our online form.