Just like any structure, your roof has potential weak points that are more susceptible to damage and wear. It's crucial to identify these vulnerable parts and understand how to keep them in optimal condition. Whether it's your shingles, flashing, gutters, or roof edges that need attention, understanding these vulnerabilities can make a world of difference in the lifespan of your roof.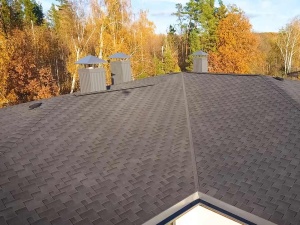 Shingles
The most vulnerable component of your roof is the shingles. As the top layer of protection, shingles are up against the most direct forms of punishment, such as wind, rain, sun, snow and hail. It is essential to check your shingles regularly to keep them in good shape. It's crucial to replace cracked, broken or missing shingles to prevent minor damage from turning into bigger issues.
Flashing
Flashing is another vulnerable part of your roof. The metal strips protect the seams and vulnerable areas of the roof where water often gathers. Over time, flashing can corrode, crack, become loose and shrink. A few quick inspections can ensure it's well attached and doing its job. If any flashing is damaged or in disrepair, it's a good idea to have it replaced by residential or commercial roofing contractors.
Gutters
Your gutters are an especially vulnerable part of the roof as they channel water away to prevent damage to the roof and walls. Keep them clean and free of debris to avoid slowing down drainage. It's also essential to have the necessary downspouts and gutters in the right places to ensure water is properly flowing away from the roof.
Roof Edges
The roof edges are a common site of water intrusion. It's essential to inspect them at least twice a year. Check that the edges are sealed securely. Also, double-check that the step flashing installed at the edges is correctly attached and undamaged.
Roof Maintenance Tips
Maintaining the health of your roof takes consistency. Regular inspection is critical. It helps spot potential issues before they escalate into significant problems. Keep your roof free from debris, like leaves and branches, which can accumulate and cause damage over time. Regular gutter cleaning also plays a significant part in maintaining a healthy roof as it ensures efficient water runoff. Don't ignore growths on your roof, such as algae and moss. They retain moisture and can cause damage to the roof structure if not removed promptly. Do take note of roofers near me reviews before deciding which contractor to hire.
Roof maintenance isn't a one-time task. It's a continuous effort that requires regular checks and preventive care. For reliable and expert residential and commercial roofing services, Easton Roofing can help. Contact us at (913) 257-5426 or complete our online form to schedule a consultation!