There is no specific temperature when it is too cold to install asphalt shingles. The major concern is that asphalt shingles can become inelastic in cold temperatures. Other concerns include the self-sealing strips not sealing, and installer comfort / motivation.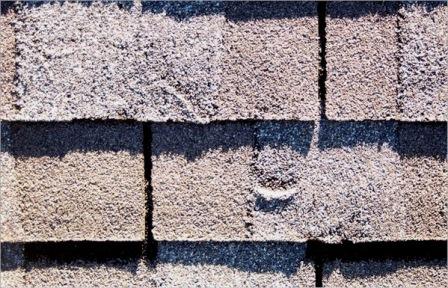 When it's too cold the shingles are hard to cut, the installer is in a hurry to finish, and the shingles are tough to get laid down flat.
As a general rule we like to wait until the high will be in the forties, but in some circumstances we will roof in cooler weather. A roofer working in forty degree weather is a happy roofer. They are not rushing to get the south side done before the sun turns it into an incinerator at 1 p.m. like they are in July, and the work day is shorter so there is less fatigue.
One advantage to cool weather roofing is the avoidance of foot fall. Foot fall is the scuffing and granular loss caused by a roofers foot sliding across a shingle that is very hot and thusly more pliable. This footfall significantly shortens the life of a shingle. This is also why roofing in extremely hot weather is also unadvisable.
In summary, the positives of cool weather application are a happy roofer, who isn't damaging the shingles, who is not in a hurry, and doesn't work from 6am to 9 pm (because it's dark!).