K-style gutters are known for their seamless finish that makes them less prone to leaks, making this style of gutters popular in modern-day homes. However, more and more homeowners are also realizing the benefits of half-round gutters. Keep on reading to find out when you should choose half-round gutters.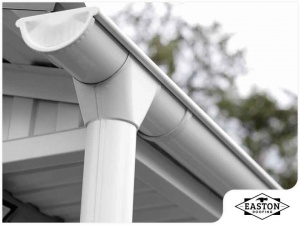 The Trending Style of Half-Round Gutters
Homes built before the 1950s used to have more rounded features, as opposed to newer homes where angular roofs and architectural designs are preferred. When restoring historic homes, the owners often want to preserve the look of the original design and then add modern features to safeguard the surrounding landscape. This has driven the increasing popularity of half-round gutters in recent years. Half-round gutters have a symmetrical shape that complements the rounded appearance of older homes.
The Benefits of Half-Round Gutters
Half-round gutters offer a number of advantages that make them appealing to homeowners:
Simple and sleek lines. In newer homes and high-end residential properties with odd and distinct architecture, the simple and clean lines of half-round gutters complement the hulking textures of slate and tile.

Smooth surfaces. The smooth surface of half-round gutters diminishes the creases where water can collect, making it effective at washing debris out of the gutters. And since there are fewer areas where water can accumulate, the likelihood of corrosion is also reduced.

Ease of maintenance. The simple lines and smooth surfaces of half-round gutters allow leaves, twigs and other debris to drain out of the gutters more freely instead of getting caught on rough edges, which can cause blockages over time.
Contact Us for Your Gutter Installation Needs
Avoid water damage by working with Easton Roofing. Our certified team will help you find the best gutter system for your home and budget. Give us a call at (913) 257-5426 or fill out our online form to schedule an appointment.