It's easy to ignore hail damage when it's not as severe as storm damage, but doing so can lead to serious issues down the line. In today's post, the roofing contractors at Easton Roofing discuss the reasons why you shouldn't ignore hail damage, and what you can do to protect your roof from its effects.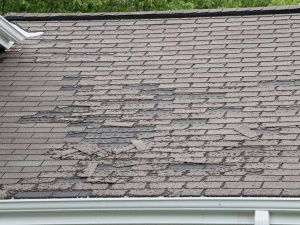 What Happens If You Ignore Hail Damage?
Hail damage is characterized by small, shallow craters on the roofing surface. They are often mistaken for shingle blisters, an entirely different roofing issue caused by a manufacturing defect. These craters are quite deceptive: they look like cosmetic damage, but they actually introduce small cracks and punctures that can result in water infiltration if the damage is deep enough. On asphalt shingles, damage to the outer layer exposes the asphalt-saturated backing material to UV damage.
With continued exposure to the elements, a hail-damaged roof becomes more vulnerable to problems like premature failure. Your homeowners' insurance policy may have coverage for hail damage, and failing to document the damage and file a claim may affect your insurance premiums, or even have a related claim denied.
Inspect Your Roof
You've probably had your roofing contractor recommend conducting a visual inspection of your roof after every weather event, even when there isn't any apparent damage. Hail damage is one reason for this — since the damage isn't always visible from the ground most of the time, you'll need to take a closer look to make sure.
The only things you will need to inspect your roof is a good pair of binoculars and something to document the damage, like a notebook or your smartphone. Alternatively, you can use a remote-controlled drone to record video that you and your roofer can review at a later time. Examine every inch of the roof, paying attention to imperfections on the roofing surface. If you find signs of hail damage, your roofer can help you plan your next steps, as well as assist in filing a claim with your insurance provider.
Easton Roofing is one of the most trusted roofing contractors serving communities in Kansas City, MO. If you need help with fixing hail damage and other roofing problems, give us a call at (913) 257-5426. You can also fill out our contact form to schedule a consultation.